July generally is the warmest month of the year in Amsterdam, with temperatures ranging between nighttime lows of 13° C (54° F) and midday highs around 22° C (72° F).
Mind you, historically July weather has always been precarious at best (as is Dutch weather in general, no matter what month you pick).
You never quite know what you're going to encounter — especially nowadays, what with global warming and other allegedly non-existent meteorological phenomena.
Amsterdam Weather Forecast, July 2020
Updated throughout the month of July
: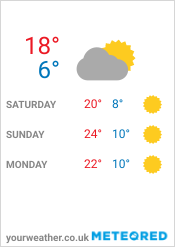 As a service to our readers we update this page with weather forecasts throughout the month of July.
During the rest of the year see the general information on this page.
Long Term Forecast
See: August weather.
Amsterdam is extremely crowded during June, July and August. Get tickets for museums, tours, public transport ahead of time.
Normal lows and highs in July
1-10: 13/21.6° Celsius (55.4/70.88° Fahrenheit)
11-20: 13.3/21.8° Celsius (55.94/71.24° Fahrenheit)
21-31: 13.8/22.6° Celsius (56.84/72.68° Fahrenheit)
We update this Amsterdam Weather in July information throughout the month.
Good news: July used to be the third wettest month of the year, but lately it has ranked somewhere in the middle.
If you do run into some rain it's usually not enough to use an umbrella for.
Most showers are brief, and sometimes there's little more than a drizzle.
Just pop into a store or a café to wait it out.
And if it looks like a day with the sort of weather you dislike, plan to visit a museum or two.
By the way, sunrise is before 6:00 am and sunset is somewhere around 9:30 pm.
When the weather is sunny, do like the Amsterdammers do and enjoy some relaxing time at one of the many outdoor cafés.
What to wear in Amsterdam in July
Count on warm weather. Even when it rains it never quite gets cold.
There is no need to carry around an umbrella. Should it rain, simply duck into one of the many cafés or coffee houses.
Amsterdam Climate
See also: General information about the weather in Amsterdam
The post Amsterdam Weather in July appeared first on Amsterdam Tourist Information.